More Shopping Catergories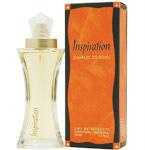 Launched By The Design House Of Charles Jourdan In 1998.
Inspiration By Charles Jourdan For Women possesses A Blend Of: Jasmine Rose Violet and Mandarin An Oriental Bouquet.
It Is Recommended For Daytime Wear.
1.7 Oz.
---


© Health & Beauty 2019 onwards. All rights reserved. Images, prices & product descriptions are for reference purposes only. All trademarks and registered trademarks are the property of their respective owners. This site may receive compensation if a product is purchased through one of our partner links.